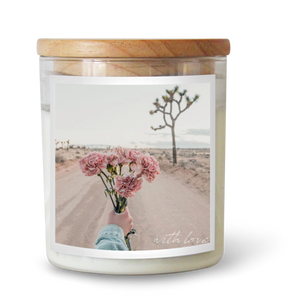 Hudson Valley Fragrance.
A delicious aroma that embraces scents of fresh produce from the valley. A fresh blend of Cucumber, Mint and Ginger with a twist of Lemongrass and Persian Lime.
Send oodles of love with our 'with love' Soy Candle featuring a gorgeous photo from Joshua Tree, California and taken by Madison Bergamo.
We all love fresh flowers but this candle will last a hell of a lot longer than a bunch of flowers so your love will go on and on.....
Mindful Message: When you feel it, say it!
Our Candles have 600g of creamy pure soy + candle wax that will give you up to 80-100 hours of burning. Photo taken by Madison and you can find her at @madisonbergamo