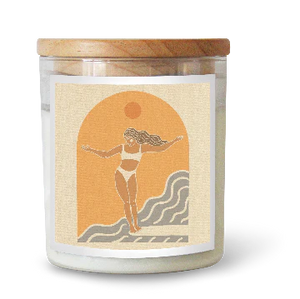 The Collab artist is just an absolute guru when it comes to surf, sea, land and just nature in general. Stephanie behind Roam Slow Studio is based in the UK but travels around in her van pretty much all of the time! A lot of her art is based off her travels, she brings texture limited colours and memories into her art using traditional paint brushes and digital illustration.

Oh she also is super conscious of the planet which aligns with our brand oh so well! Check her out, you won't regret it.. 
Featuring artwork by the guru herself ,Roam Slow Studio
https://www.instagram.com/roamslowstudio/
- 600g of creamy, pure + renewable soy + coconut wax
- blended with Australian made fine fragrance oils + enriched with essential oils.
- Enjoy 80-100 hours of bliss.
Mindful Message ~ Your Amazing!
PALM DESERT Scent ~ Bohemian Vibes of Sandalwood and Patchouli to fill you with peace, harmony and grow your spiritual awareness.