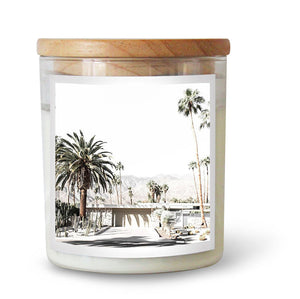 There's no doubt we all have a little Palm Springs dreaming from time to time!  This classic Springs home featuring on this candle is in collaboration with lana Sallick and gives us all a taste of those cool Palm Spring Vibes. Nothing but love for this epic pic and its gonna transport you 

there each time you light this baby.
Our Candles have 600g of creamy, pure and renewable soy + coconut wax, blended with our own Australian made fine fragrances oils and enriched with essentials oils.
Enjoy 80-100 hours of bliss.