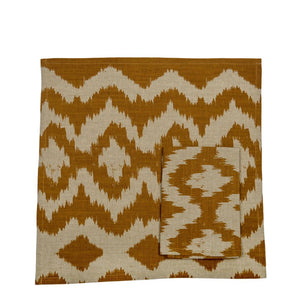 Indoors or outdoors this set of 4 recycled tuscan olive cotton napkins with a contemporary design will delight your guests!  The Ikat collection comes in a range of products to compliment all your Raine & Humble wares.  Our napkins  are ethically made with a commitment to reduce global footprint. Beautifully packaged and tied with a Raine and Humble ribbon.
• Made of sustainable 100% cotton.
• Ethically made. 
• Machine washable.
• Generous 40cm x 40cm.