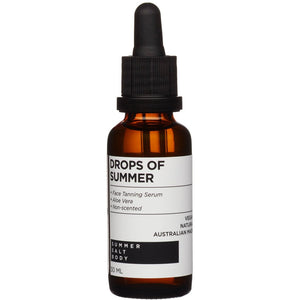 Get that glow all year round with our Drops of Summer!

It's a hydrating face tanning serum infused with Aloe Vera which you can add to almost anything to provide your skin with a natural glow. Mix a few drops with your favourite serums, moisturisers or even body lotions. Our serum is non-scented, non-greasy and easy to use. 


How to use: Apply 1-10 drops to your favourite moisturiser, serum or oil. Start off small to achieve the desired level of glow, adding more drops gives a stronger tan. Can also be used on it's own - Apply with a mitt. Wash hands after use. 
Usage: Whenever you need a little glow up! Develops over a few hours and lasts for around 3 days. 
INGREDIENTS: Purified Water, Dihydroxyacetone, Pentylene Glycol, Aloe Vera Leaf Juice, Erythrulose (Raspberries), Glycerine, Ethylhexylglycerin, Xanthan Gum, Carrageenan (Seaweed), Potassium Sorbate, Sodium Benzoate, Phenoxyethanol*, Citric Acid.  
*Phenoxyethanol 
- Found naturally in green tea, however for cosmetic use it is made synthetically in a lab, creating a "nature identical" chemical. We use phenoxyethanol in a very low concentration as a preservative in this product only because the most accessible alternatives for these types of formulas include parabens and formaldehyde-releasing preservatives. Phenoxyethanol is very safe at low levels. It's been tested on the skin and eyes and it is non-irritating and non-sensitizing at levels of 2.2%. Our formulas fall well below the recommendation at only 0.5%