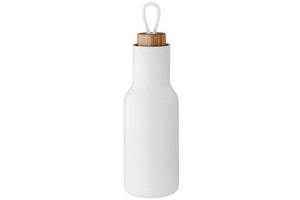 Stay hydrated in style with your favourite thirst quenchers in the Tempa Drink Bottle!
This gorgeous insulated bottle will keep your drinks cool for a longer duration, perfect for long days out. Made from high quality stainless steel, this bottle showcases a sleek and luxurious form that is sure to please your senses.
With a generous capacity of 600ml, you can easily store a refreshing cold brewed tea or even iced water to keep yourself hydrated and refreshed throughout the day.
The wooden stopper lid features a finger loop for you to easily remove and replace the lid with little hassle.
Features: design Made from high quality stainless steel and wood 600ml capacity Measures 8cm x 8cm x 27.5cm BPA-free Drinks stay cooler for longer Comfortable grip Wooden stopper lid Finger loop for easy removal and closure Reusable Hand wash recommended