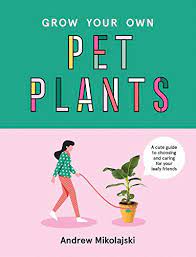 Plants make great pets – they're quiet, decorative, housetrained and (mostly) low-maintenance – and with this helpful guide, you'll soon be the perfect plant parent!
Grow Your Own Pet Plants
 has all the information you'll need for green-thumbed success, from learning which plant to take home to how to help your leafy friend thrive in all conditions. Andrew Mikolajski provides helpful tips, from how to nurse and propagate cuttings to choosing a plant that suits your home and lifestyle. With a simple guide to more than 40 plant personalities and easy care advice, from feeding and grooming to showing off your new pet to guests, you'll soon be the proud owner of a new collection of plant pets.