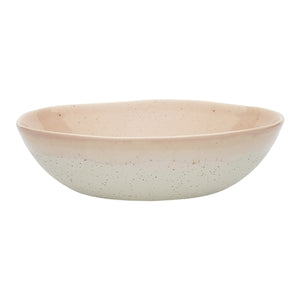 Gentle washes of transparent colour are overlaid above a reactive speckle to create the heavenly Dawn dinnerware.
The softly toned gloss inner melds joyfully with the creamy-hued matte outer to create a tactile and visual variation.
The organic shape and speckle detail ensure each piece is unique. Evoking images of peaceful mornings, this blossoming stoneware bowl is the perfect way to enjoy your morning breakfast.
Designed in Australia.
Please note: Due to the production techniques used to make our beautiful products, the glaze may appear different to what we have advertised. Slight colour variations and glaze idiosyncrasies are normal, making each product truly one of a kind.